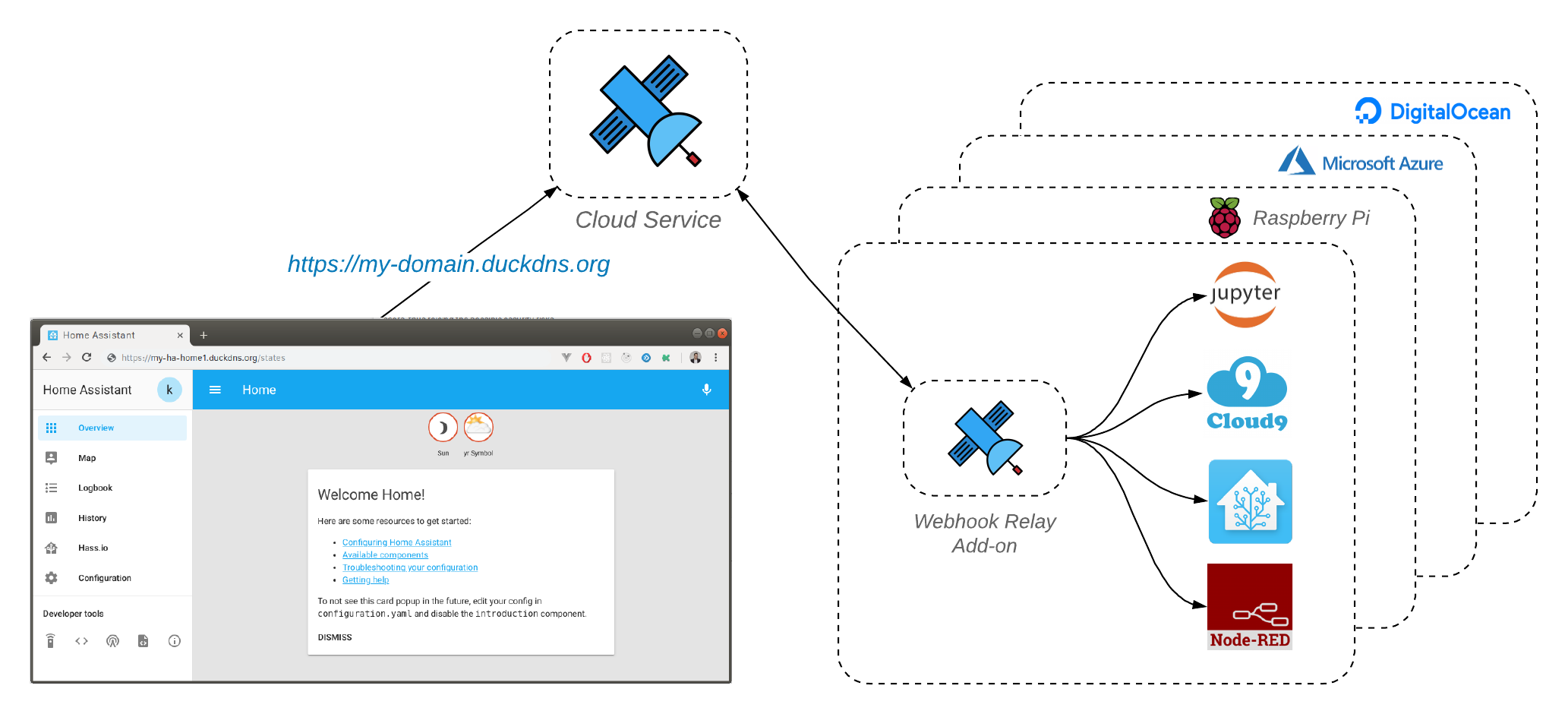 Remote access to Home Assistant
Webhook Relay add-on for Home Assistant provides remote access without requiring you to configure router or have a public IP. See a documentation for a step-by-step guide on how to configure our add-on with Home Assistant. Add-on works by creating secure encrypted tunnels to our cloud servers where traffic is shielded from our servers by TLS encryption. We couldn't inspect the traffic even if we wanted to.
Use Webhook Relay add-on when:
No static/public IP
ISP blocks inbound connections (double NAT, 4G)
You cannot access & configure router port forwarding
You don't want to mess with DNS/SSL and just want a secure, working solution
Server that is running Home Assistant is chaning IP, location
Keep Home Assistant secure
With Webhook Relay Home Assistant add-on you don't have to deal with dynamic DNS, SSL certificates or opening ports on your router. Just log in via your favorite browser or smartphone app and a secure connection with to your Home Assistant will be established.
You can have multiple tunnels to specific services, such as Home Assistant itself, Node-RED, Configurator and Cloud9 IDE. Each service will be accessible through a separate domain name, no need to remember ports anymore.
Easily connect to voice assistants
With Webhook Relay Home Assistant add-on, you can connect your Home Assistant instance following official documentation guide to both Google Assistant and Amazon Alexa. Just specify your public Home Assistant tunnel address instead of configuring NGINX or other proxies. Stay in control, Webhook Relay will never lock you in.
If you can connect it to Home Assistant, you can now control it with your voice using the Amazon Echo, Google Home or your Android phone.
Receive webhooks from IFTTT or any other service
Besides providing remote access to Home Assistant, Webhook Relay add-on can perform webhook forwarding so you can easily integrate third party services such as IFTTT, OwnTracks. Our web dasbhoard allows you to inspect and resend webhooks, making it easier to develop new automations and debug any encountered problems. Webhooks can be sent to multiple destinations at once - your Home Assistant and Node-RED can process events in parallel.
Ready to sign up?
Still not sure whether it's a good fit for you? Email us at [email protected] and we will give you a free trial.